This website is in english, but due to a lot of french readers, some readers comments are in french. The official language of this site and of the comments is english, still.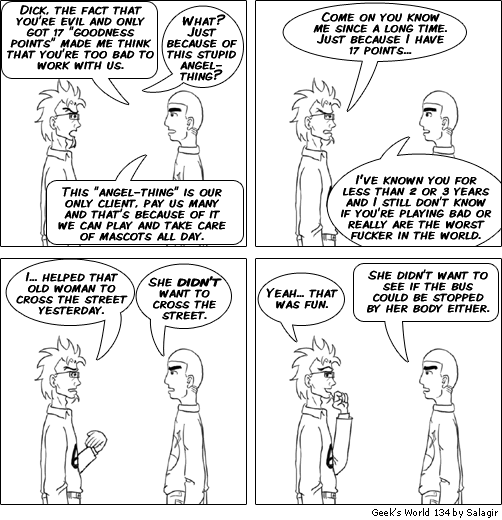 In order to be more occuratly indexed, the texts of the strip are written in this hidden div.
Dick, the fact that you're evil and only got 17 "goodness points" made me think that you're too bad to work with us.
What? Just because of this stupid angel-thing?
This "angel-thing" is our only client, pay us many and that's because of it we can play and take care of mascots all day.
Come on you know me since a long time. Juste because I have 17 points...
I know you since less than 2 or 3 years and I still don't know if you're playing bad or really are the worst fucker in the world.
I... helped that old woman to cross the street yesterday.
She didn't want to cross the street.
Yeah... that was fun.
She didn't want to see if the bus could be stopped by her body either.




Dick, comme tu es méchant et n'as que 17 "goodness points", je pense que tu ne devrais plus travailler avec nous.
Quoi ? Jusque à cause de cet ange machin ?
Cet "ange-machin" est notre seul client, il paye beaucoups et c'est grâce à ça qu'on joue et s'occupe de mascottes toute la journée
Allez, tu me connais depuis longtemps, tu sais ...
Je te connais dpuis moins de 2 ou 3 ans et je ne sais toujours pas si tu joues au méchant o si t'es vraiment le plus gros connard du monde.
J'ai... aidé cette vieille femme à traverser hier.
Elle ne voulait pas traverser.
Ouais... C'était marrant.
Elle ne voulait pas vérifier si son corps pouvait arrêter un bus non plus.

Readers comments:
2005-06-22 10:07:27
me
he's evil :( scary
2005-06-22 10:03:08
Tof
Une vieille dame contre un bus ? Je vois qu'il y a continuité ;-)
En effet, rappelez-vous :
http://www.geeksworld.org/index.php?page=106
"Remember to vote, on both sites. It's really important. Why? Because. If you don't... I will push an old lady under a bus!"
En tout cas, je constate que Salagir fait une fixation sur l'idée de pousser les vieilles dames contre les bus. Alors si vous êtes âgé, de sexe féminin, que vous habitez non loin de chez Salagir, et qu'une ligne de bus dessert le quartier, je vous recommande la plus grande prudence :o)
2005-06-22 14:29:06
XaF
En même temps ça permet de régler le problème des retraites ... xD
2005-06-24 15:24:07
Falcon
ouai et puis agée et de sexe feminin ca commence a devenir de paire de toute facon :/
2005-07-15 21:27:09
Sotoka
How does he have any goodness point is far beyond me. :P
Salagir's answer:
Goodness points are cumulated thru life when you do good-like actions, and even the evilests acts don't take out them. Ultimate Badness for exemple knows how much badness points have all humans. You can have lots of both (if you are the hero of The Shield for exemple ;)