This website is in english, but due to a lot of french readers, some readers comments are in french. The official language of this site and of the comments is english, still.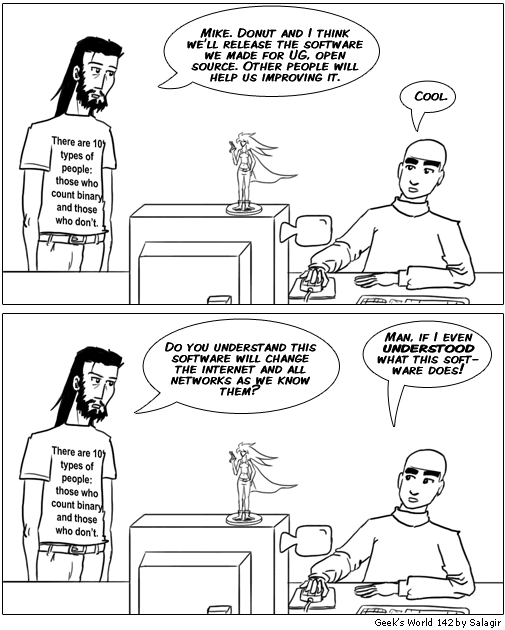 In order to be more occuratly indexed, the texts of the strip are written in this hidden div.
Mike. Donut and I think we'll release the software we made for UG, open source. Other people will help us improving it.
Cool.
Do you understand this software will change the internet and all networks as we know them?
Man, if I even understood what this software does!




Mike. Donut et moi pensons sortir le programme qu'on a fait pour UG, en open source. D'autres gens pourrons nous aider à l'améliorer.
Cool.
Tu comprends que ce programme va changer le monde des réseau et d'internet tel que nous le connaissons ?
Hey, si déjà je comprennais ce que fait ce programme...

Readers comments:
2005-07-13 00:58:32
DaSayan
Excellent le T-Shirt de Tom ! :)
Salagir's answer:
Tous les T-shits de Tom ou presque existent et sont en vente sur des sites de vente en ligne de geek.
2005-07-13 09:21:42
Tiga
Try changing the end to say: "Man, if I even UNDERSTOOD what this software does!" (replace "do" with "does"). Slight grammar thing.
Salagir's answer:
Absolutely. Corrected, thanks.
2005-07-13 13:13:39
Dwarfoo7
ya une ressemblance de Mike avec xa ! Trouvez laquelle ;-)
2005-07-13 23:58:41
hugy
Le retroviseur
2005-07-14 01:12:12
DaSayan