This website is in english, but due to a lot of french readers, some readers comments are in french. The official language of this site and of the comments is english, still.
Full Dragon Hell Comic is here.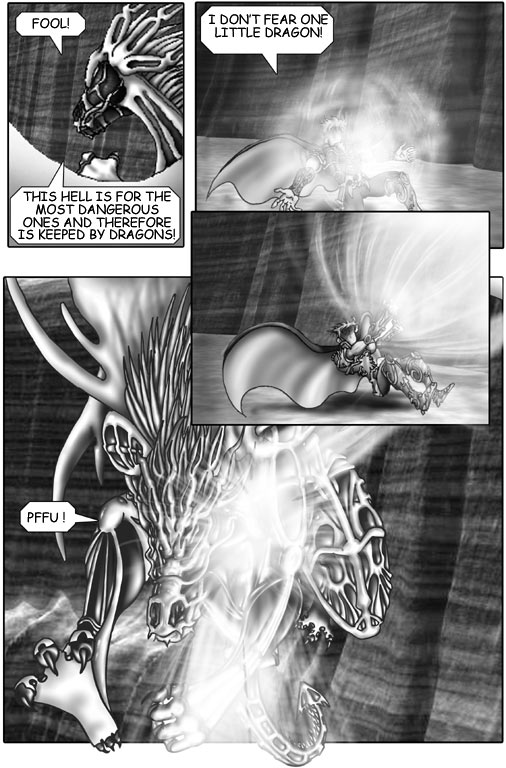 In order to be more occuratly indexed, the texts of the strip are written in this hidden div.
FOOL!
THIS HELL IS FOR THE MOST DANGEROUS ONES AND THEREFORE IS KEEPED BY DRAGONS!
I DON'T FEAR ONE LITTLE DRAGON!
PFFU !



CRETIN !
CET ENFER EST POUR LES PLUS PUISSANTS, IL EST DONC GARDE PAR DES DRAGONS !
C'EST PAS UN DRAGON QUI VA ME FAIRE PEUR !
PEUH !
Full Dragon Hell Comic is here.
Readers comments:
2005-01-21 03:53:14
hamster
Du sang, de la chique et du molard
2005-01-21 16:15:41
hugy
Doragun Punchhh
2005-01-21 19:49:00
Raf
arf je comprends rien , trop de meca ! Vous connaissez le Chatpate ? c'est un chat il a une pate et quand sa mere l'apl , il dit miaou ! STI GE POWA !
2005-01-21 19:49:35
Raf
dsl pour le message pouri mais en tout cas c'est toujours sypa de lire un pti truc le soir en rentrant des cours !$$
2005-01-23 21:31:54
STFU
Bien mais la version de dragon hell sur le site de salagir a eté enlevé ?
Salagir's answer:
Ben vi, elle était incomplète, avec des pages encore en mode scénario, donc l'idée était de reprendre un bon départ !