This website is in english, but due to a lot of french readers, some readers comments are in french. The official language of this site and of the comments is english, still.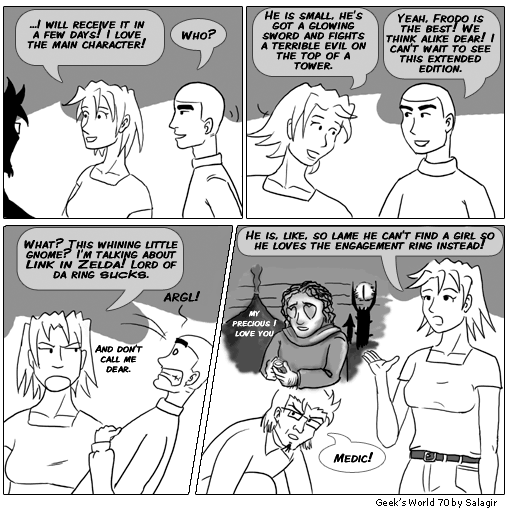 In order to be more occuratly indexed, the texts of the strip are written in this hidden div.
...I will receive it in a few days! I love the main character!
Who?
He is small, he's got a glowing sword and fights a terrible evil on the top of a tower.
Yeah, Frodo is the best! We think alike dear! I can't wait to see this extended edition.
What? This whining little gnome? I'm talking about Link in Zelda! Lord of da ring sucks.
ARGL!
And don't call me dear.
He is, like, so lame he can't find a girl so he loves the engagement ring instead!
my precious I love you
Medic!




...Je vais le recevoir dans quelques jours ! J'adore le personnage principal !
Qui ?
Il est petit, a une épée qui brille et combat un seigneur noir en haut d'une tour.
Ouais, Frodo est l'meilleur ! On pense pareil chérie ! T'as commandé la version longue !
Quoi ? Ce p'tit gnome pleurnicheur ? Je parle de Link dans Zelda ! Le seigneur des anneaux ca pue !
ARGL!
Et m'appelle pas chérie.
Il est genre, trop mauvais pour se trouver une copine et aime l'alliance à la place !
mon précieux je t'aime !
Médic !

Readers comments:
2004-12-06 18:52:22
Zouf
excellent
2004-12-06 19:30:53
pOueT
mdr medic :>
2004-12-07 00:21:26
hugy
Frodo is so lame. you're damn right my lady
2004-12-07 03:32:56
Xer0z
excellentéééé :))))))
2004-12-07 21:00:57
StiKz
j'ai pa compris le truc là :x ya quoi de drole :/ ?
2004-12-08 11:11:54
Tryum
Zelda : the minish cap roxxxxxx
2007-09-22 20:36:17
CrachOveride
J'adore le petit "Médic" dans la derniere case
2009-11-16 20:02:48
6-po
mais quelle horreur!!! The Lord of the Ring est quand même l'un des meilleurs!
2012-03-09 20:56:18
Lol
Médic !