This website is in english, but due to a lot of french readers, some readers comments are in french. The official language of this site and of the comments is english, still.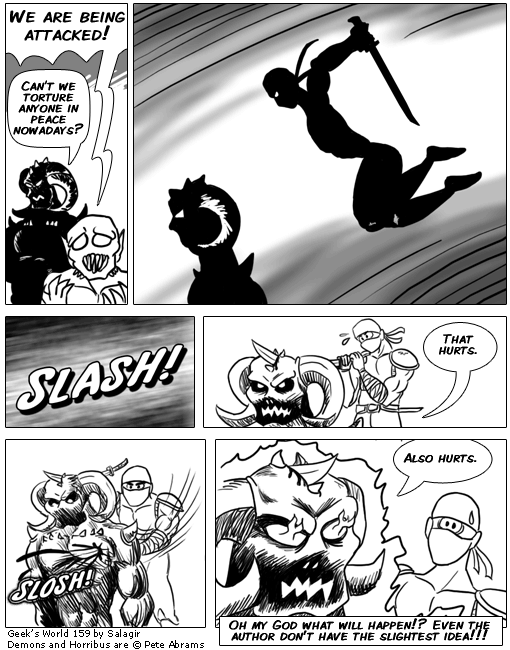 In order to be more occuratly indexed, the texts of the strip are written in this hidden div.
We are being attacked!
Can't we torture anyone in peace nowadays?
That hurts.
Also hurts.
Oh my God what will happen!? Even the author don't have the slightest idea!!!




On est attaqué!
On ne peut plus torturer quelqu'un en paix ?
Ca fait mal.
Ca fait aussi mal.
Mon Dieu mais que va-t-il arriver !? L'auteur lui-même en sait que dalle !!!

Readers comments:
2005-08-31 07:02:41
Nakwa
Slosh! ;))
2005-08-31 08:51:53
yOm
Je viens de découvrir ce webcomic, j'adore :D
Salagir's answer:
Et bien, bienvenue!
2005-08-31 15:04:07
DaSayan
J'espère que ça va pas virer comme Berserk avec un enfer bourré de monstres totalement délirants faits sous acide, et des scènes de combat plus gores que gores,et... enfin bref ;-p
Une idée de manga à lire pour toi Salagir, si tu as le coeur bien accroché :-)
Salagir's answer:
Déjà sur mes étagères.
2005-08-31 23:10:48
Celelibi
Sala, c'est Berserk ou ton coeur qui est sur tes étagères ? (ok c'est pourris)
Dans ton commentaire y'aurait pas une faute dans all good series was abandonned ?
J'ai l'impression que BN à les genoux un peu transparents dans le deuxième cadre, mais c'est sûrement un effet de mon imagination ou une référence à un manga que je connais pas. (Ôhhh Dieu Salagir pardonnez mon inculture)

Et puis euhhh que va-t-il se passer ?
Lina débarque et sauve tout le monde ?
2005-08-31 23:28:32
Kyo Nanashi
I know how ya feel bro. Fortunately Blue SEED will give you less headache if you ever decide to read it.
2005-09-01 04:12:25
Tiga
"we are being attacked!" or "we are under attack!" to replace "we're attaqued!"
Salagir's answer:
Changed. Thanks for pointing out.
2005-09-01 12:03:13
Inikisha
"I've been watching this series (not on TV)"
Encore heureux :)
2010-03-29 21:52:38
ya54
B.N a peur ?? Mon dieu le mythe s'effondre !