This website is in english, but due to a lot of french readers, some readers comments are in french. The official language of this site and of the comments is english, still.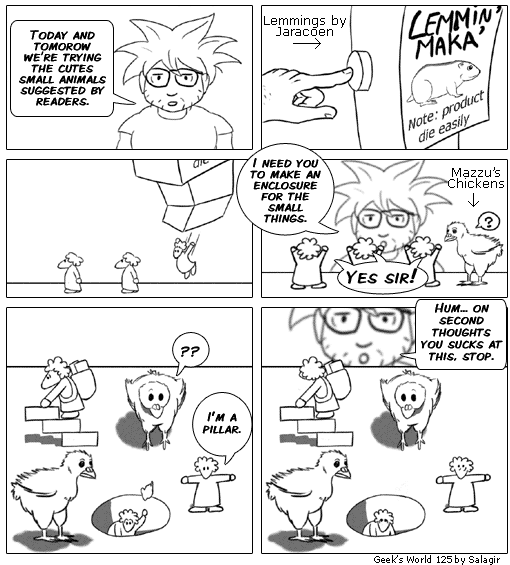 In order to be more occuratly indexed, the texts of the strip are written in this hidden div.
Today and tomorow we're trying the cutes small animals suggested by readers.
(Lemmings by Jaracoen)
I need you to make an enclosure for the small things.
(Mazzu's Chickens)
Yes sir!
I'm a pillar.
??
Hum... on second thoughts you sucks at this, stop.




Aujourd'hui et demain nous essayons les petits animaux mignons proposés par les lecteurs.
(Des Lemmings par Jaracoen)
Il faut que vous fassiez un enclos pour ces petites choses.
(Poussins de Mazzu)
Yes sir !
Je suis un pillier.
??
Heu.. en fait vous êtes nuls, laissez tomber.

Readers comments:
2005-06-01 00:41:46
Marie_
Moi j'veux une tortue géante des Seychelles. C'est un petit animal mignon, ça pèse a peine 80Kg et ça pousse un petit cris déchirant quand s'est amoureux!
2005-06-01 01:29:19
Père Vert
Marie_ : où peut-on entendre ce cri ? (a part dans mon cul ?)

Sinon, qu'en es-t'il de mon cochon ?
2005-06-01 02:00:56
Zeil.Vador
Ennorme les lemmings, j'adore ca!
Et pourquoi pas un bisounours?
Ou un genre de mini démon l'air super evil?
2005-06-01 08:41:58
Jaracoen
You need smart lemmings. For that teach them.
2005-06-01 10:56:20
hamster
"smart lemmings" -> oxymoron
2005-06-01 11:33:49
Tof
> Also, I'm back at 11th! Vote, vote! My new banner rocks
Je vote quotidiennement deux fois (pc boulot + pc maison :-) et comme arrive bientôt l'eté, j'espère avoir bientôt la glace promise pour vote quotidien (planquée dans un strip, bien sur ;-)
2005-06-01 15:00:18
Marie_
Père-vert: j'sais pas moi. Ils font pas des sites zoophiles dans ta boite? (desolé Sala mais tu vois bien que c'est la faute de père-vert :-S )
Sinon achète les K7 du commandant cousteau!
2005-06-02 09:34:53
dracke
Super ta nouvelle bannière Sala. Ca donne envie de lire ton strip!
2005-06-02 11:16:17
Tof
GW est repassé 10ème :)
Allez, encore un p'tit effort !
2005-06-02 13:56:30
Mazzu
GW est passé 8ème à 1 vote de la 7ème place

PS : On ne dit pas anthropomorphisation mais anthropomorphisme. Salagir parlerait-il mieux anglais que français ?
2005-06-02 14:13:31
hamster
La il est 7 ième.
2005-06-02 19:08:18
dracke
Maintenant il est 6eme!
2005-06-03 09:03:00
Tof
Avec un classement pareil, ça mérite un strip entier sur la glace promise aux lecteurs qui votent ! Qu'en pensez-vous ? (Et puis il fait chaud en ce moment, j'en ai envie, moi, de cette glace, même si elle est virtuelle !)
2005-06-05 20:25:29
Falcon
ouai surtout que l inscription est chiante :p
2005-08-01 09:07:05
Playerzero
2019-11-15 23:41:41
CryptoSALA
Salagir, 14 ans après, ce n'est toujours pas drôle. Je suis perdu. Outré. Stupéfait. Sincèrement, en 14 ans, la blague à pas vieilli vu qu'elle est toujours pas drôle. C'est aberrant.
2019-11-15 23:51:38
Salagin
Ah là là là ! Que de nostalgie ! Je me rappelle avoir lu ce webcomic avant l'annonce de "l'accident" de Salagir :) J'espère qu'il va mieux :D