This website is in english, but due to a lot of french readers, some readers comments are in french. The official language of this site and of the comments is english, still.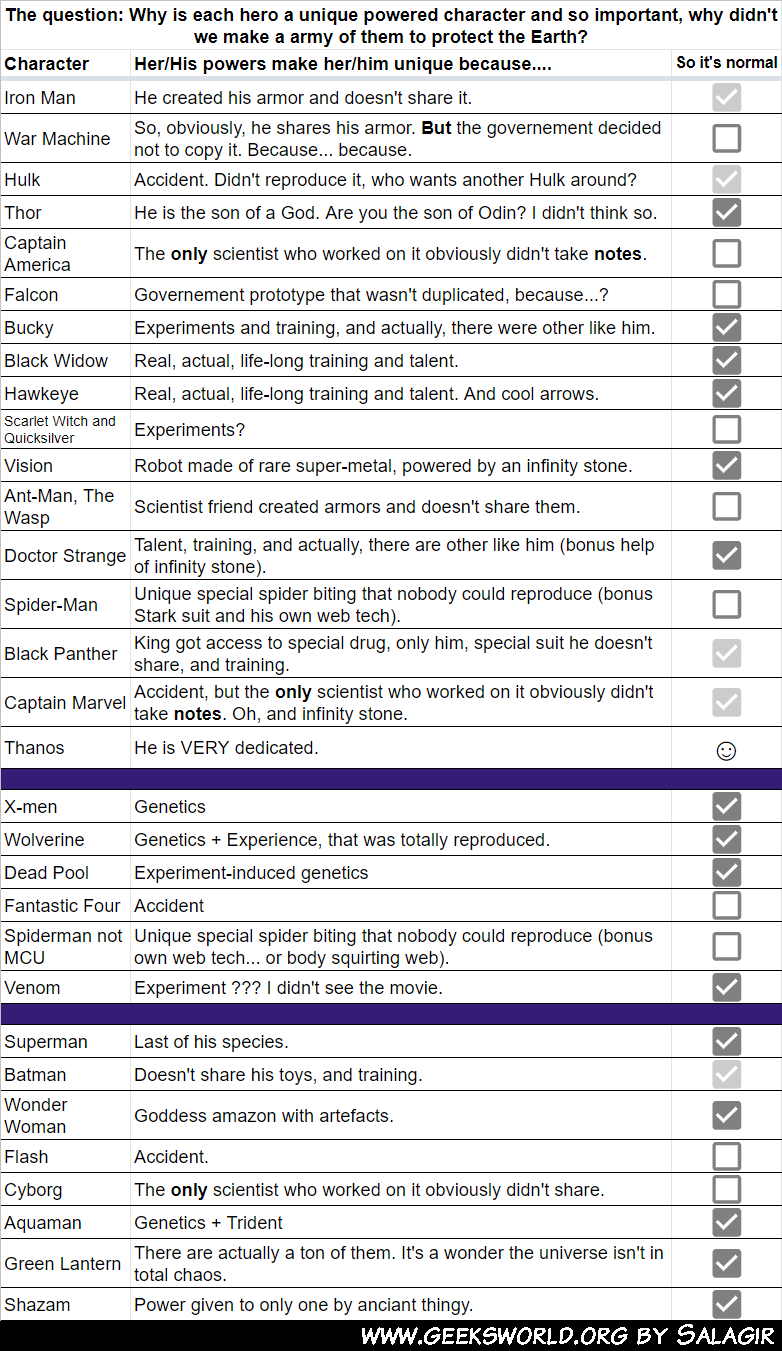 In order to be more occuratly indexed, the texts of the strip are written in this hidden div.
Powers




Readers comments:
2019-11-26 14:28:07
Jon
Venom is an extraterrestrial being.
2019-11-27 18:08:06
Fladnag
---SPOILER---
Oui, Venom est un "parasite" extra terrestre, et on peux pas en faire une armée parce qu'ils sont tous méchant et veulent anéantir la terre... sauf Venom ;o)
---/SPOILER---
2019-11-28 08:50:14
pigeta
Cyborg est fait grâce à de la technologie alien donc impossible à refaire
2019-12-02 21:12:20
Ezveus
Dingue le nombre de scientifiques qui oublient de prendre des notes. Ils ont une mémoire de fou ! Dommage qu'ils meurent tous... Comme par hasard !
2019-12-09 19:38:47
Guep
Donc pour Spidey pourquoi la case n'est pas cochée ? pareil pour fantastic four ?
Ah et MAIS QUEST CE QUI T ARRIVE SALA LES NOUVELLES PAGES GEEKSWORLD PULULLENT ! :)
2019-12-25 21:56:12
Pigeta
Joyeux Noël
2020-02-03 22:43:30
Beni-Kujaku
Pourquoi les "accident" c'est pas cochée? Ca risque d'être compliqué à reproduire.

Salagir's answer:
Hum... tu as raison... je ne me rappelle pas pourquoi j'ai pas coché. Peut-être que je trouvais l'explication trop facile ?
2022-11-30 23:33:53
Meowcate
Fantastic Four n'est pas normal en effet. Qu'importe l'accident, Richard a créé dans le premier de la duologie une machine pour reproduire les conditions qu'ils ont vécu. Ben prend la machine pour perdre sa transformation, et plus tard pour la récupérer. On doit pouvoir appliquer cela à d'autres.

Et Flash, accident peut-être, mais cela n'a été fait qu'une fois, et pouf, ça fonctionne ?
J'aurais aussi Docteur Manhattan dans cette catégorie.
L'idée est : ça a marché du premier coup, pourquoi ne pas retenter avec des volontaires triés sur le volet prêts à risquer leur vie contre des super-pouvoirs ?
Je comprendrais davantage le "Accident, pas reproductible" s'il y avait eu une liste de tentatives échouées à reproduire cela mais sans réussite. Bodycount trop élevé, pour le héros avait des prédispositions exceptionnelles.