This website is in english, but due to a lot of french readers, some readers comments are in french. The official language of this site and of the comments is english, still.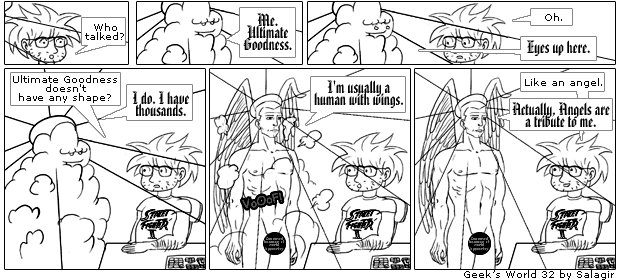 In order to be more occuratly indexed, the texts of the strip are written in this hidden div.
Who talked?
Me. Ultimate Goodness.
Eyes up here.
Ultimate Goodness doesn't have any shape?
I do. I have thousands.
I'm usually a human with wings.
Like an angel.
Actually, Angels are a tribute to me.




Qui a parlé ?
Moi, Ultimate Goodness.
Plus haut.
Le Dieu du Bien n'a pas de forme ?
Mais si, des milliers.
Souvent, je suis un humain ailé.
Un ange, quoi!
En fait, les anges sont en mon hommage.

Readers comments:
2004-08-30 07:05:18
R-MaX
Salagir's answer:
Argh! Now you know! I'm not political at all, I'm just lazy! I'm discovered!
2004-10-04 23:23:38
phyzz
I see once again that R-MaX roams the Internet like no Google-bot could do in its entire thread life...
2006-01-24 16:39:39
Otakar
Interesting and very true ideas you have exposed there.
2010-03-21 20:09:31
je conai pu mon pseudo
ya pas de fr o debut