This website is in english, but due to a lot of french readers, some readers comments are in french. The official language of this site and of the comments is english, still.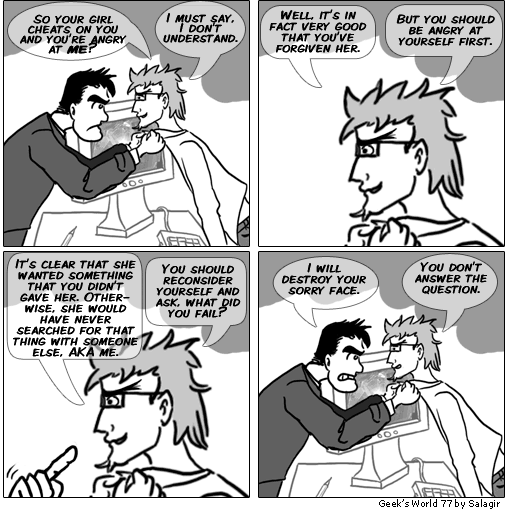 In order to be more occuratly indexed, the texts of the strip are written in this hidden div.
So your girl cheats on you and you're angry at me?
I must say, I don't understand.
Well, it's in fact very good that you've forgiven her.
But you should be angry at yourself first.
It's clear that she wanted something that you didn't gave her. Otherwise, she would have never searched for that thing with someone else, AKA me.
You should reconsider yourself and ask, what did you fail?
I will destroy your sorry face.
You don't answer the question.




Alors ta copine te trompe et tu t'en prends à moi ?
J'ai du mal à comprendre.
Enfin, c'est très bien que tu lui ais pardonnée.
Mais tu devrais t'en prendre à toi au départ.
Il est clair qu'elle voulait quelque chose que tu ne lui as pas donné. Sinon elle n'aurait jamais cherché cette chose avec quelqu'un d'autre, alias moi.
Tu devrais te poser la question "qu'est ce que j'ai raté ?"
J'vais t'exploser la gueule.
Tu ne réponds pas à la question.

Readers comments:
2004-12-27 20:10:23
Raf
arf ! enfin on a un petit retour a notre histore ! kom le dit Salagir : "Back on our story. What will happen to our characters?" sa fait plaisir !
2010-05-15 23:21:11
jelear
deuxieme!!!