This website is in english, but due to a lot of french readers, some readers comments are in french. The official language of this site and of the comments is english, still.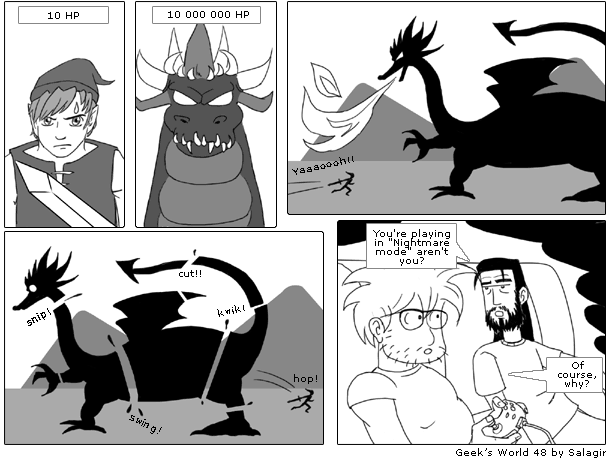 In order to be more occuratly indexed, the texts of the strip are written in this hidden div.
10 HP
10 000 000 HP
snip!
kwik!
hop!
swing!
cut!!
Yaaaoooh!!
You're playing in "Nightmare mode" aren't you?
Of course, why?



10 PV
10 000 000 PV
snipe!
kwik!
hop!
swing!
coupe!!
Yaaaoooh!!
Tu joues en "Mode Nightmare" n'est ce pas ?
Bien sûr, pourquoi?
Readers comments:
2004-10-11 11:25:14
Tuni
In "nightmare mode", when i start fighting against this final-stage-monster, i have still 100 hp.

Ray need more practice ;)
Salagir's answer:
The character had 10HP to begin with
2004-10-11 11:26:14
Inut
Ray needs more practice !!

Where are the 'log in' & 'edit' buttons ?
Salagir's answer:
They are on "tell me directly, dude!"
2004-10-11 14:13:31
Dwarf007
-> Inut is Tuni <-
2004-10-12 12:05:34
nereo
xD
2006-09-11 09:59:30
Antarka
On dirait une manette mégadrive avec un joystick à la place de la croix :s Et La place du Joystick et des boutons sont inversés. Zarb :s
Salagir's answer:
Bien décellé ! En fait cette case a originellement été dessinée dans l'autre sens !
2008-01-15 04:46:37
Solemyr
where ray play that game?
it seems both of them 're in airplane

pardon 4 my poor english
Salagir's answer:
They're on the living-room couch. Pardon my poor drawing.
2008-07-15 19:58:33
AGtheKiLLER
quel dingue ce Ray :D
et sinon; génial ce comic !!!
2009-10-22 01:37:16
Jake'm
Woah, awesome controller. I didn't know Ray was left-handed?