This website is in english, but due to a lot of french readers, some readers comments are in french. The official language of this site and of the comments is english, still.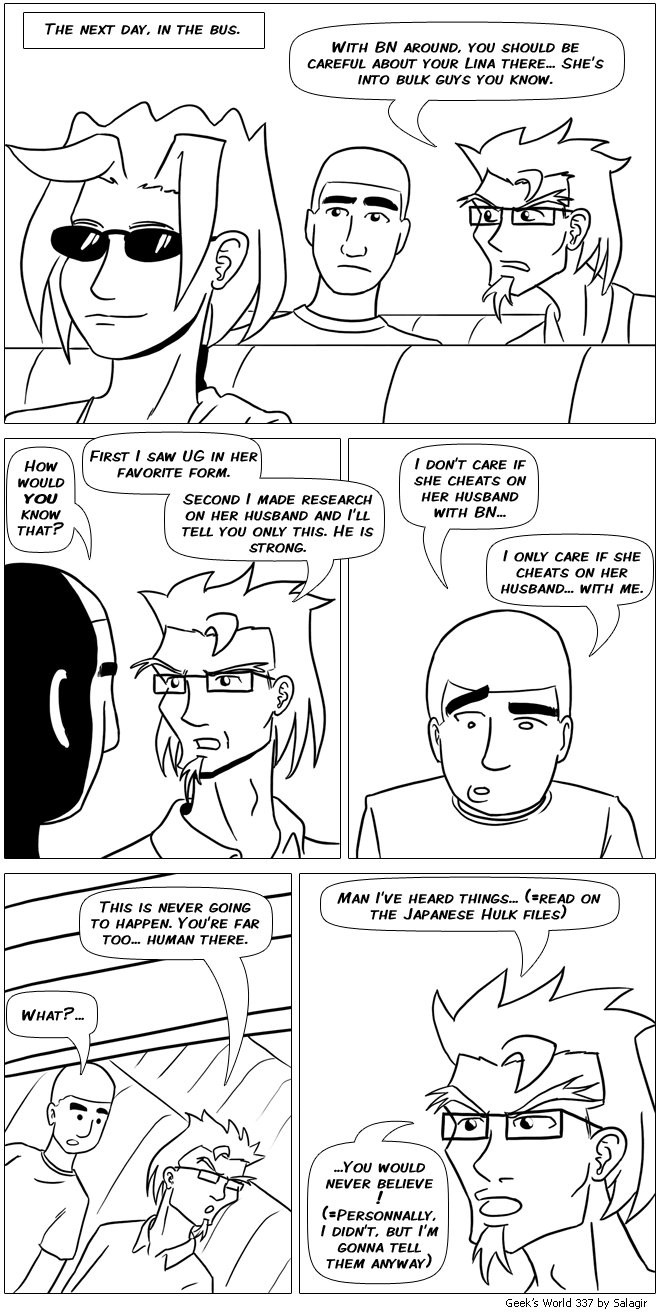 In order to be more occuratly indexed, the texts of the strip are written in this hidden div.
The next day, in the bus.
With BN around, you should be careful about your Lina there... She's into bulk guys you know.
How would you know that?
First I saw UG in her favorite form.
Second I made research on her husband and I'll tell you only this. He is strong.
I don't care if she cheats on her husband with BN...
I only care if she cheats on her husband... with me.
This is never going to happen. You're far too... human there.
What?...
Man I've heard things... (=read on the Japanese Hulk files)
...You would never believe ! (=Personnally, I didn't, but I'm gonna tell them anyway)




Le jour suivant, dans le bus.
Avec BN dans le coin, tu devrais surveiller ta Lina... Elle s'intéresse aux mecs musclés tu sais.
D'où peux-tu savoir ça ?
D'une j'ai vu U.G. dans sa forme préféré.
De deux j'ai fais des recherches sur son mari et je te dis que ça : il est fort.
Je m'en fous si elle trompe son mari avec BN...
Je m'en fous pas si elle le trompe... avec moi.
Ca n'arrivera pas. T'es... bien trop humain, toi.
Quoi ?...
Mec j'ai entendu de ces trucs... (=lu sur les fichiers du Hulk Japonais)
... Que tu ne croiras jamais! (=perso je n'y ai pas cru, mais je vais le répéter quand même)

Readers comments:
2007-04-02 00:01:38
vomoho
preums
2007-04-02 00:09:41
nerevar
encore super efrein...graaa >_<
2007-04-02 00:28:08
k4l45h
AAAAAAAAAAAAAAAH!!
Je vois des petit gens (qui sont pas morts) qui passent dérrière Tom en haut de la page!
J'suis sûr d'avoir vu Lucky Luke et Mario.
Dites moi que mes yeux sont encore bon, que je suis pas fou.
Ce nouveau design est hanté!
Ou alors je suis resté trop longtemps devant mon écran...
2007-04-02 00:44:21
nepser
k4l45h> je l'avais bien dit sur le trackback précédent, le design crève les yeux et provoque même des hallucinations!
Ou pas, oui il y a bien des p'tits persos qui se promènent, mais on les voit pas longtemps :(
2007-04-02 07:02:22
13Kill
J'viens d'y penser le Hulk jap est aussi fort que Link avec les gantelet d'or ? et même que Darunia ? Moi j'y crois pas et pis d'abord j'mange des BN au p'tit déj' !
2007-04-02 08:30:38
Owak
Bien déssinée. Pour le design : j'aime bien le fond, la bannière au début je la trouvais abominable, mais finalement avec une
résolution plus élevé c'est sympa. Un truc me gène cependant, c'est devenu Geek'z World ? Le z de zelda serait pas mieux inversé horizontalement ? (enfin, c'est peut-être un peu sacrilège tout compte fait...)
2007-04-02 09:35:29
MollyGrue
le nouveau design est affreux ! En plus avec les trucs défilants ça lag à mort sur mon vieux fossile de PC ! :S J'ai même pas encore réussi à voir les deux dernières cases, ça lague tellement que c'est soit le haut de la page soit le bas ! J'ai pas le droit de voir ce qu'il y a au milieu !

AU SECOURS !!!
2007-04-02 11:19:32
Falcon
bon strip pour inauguré un bon site GG sala =)
2007-04-02 12:46:35
Owak
re... Juste pour dire, oublier mon commentaire à propos du z et du s... Je suis pas réveillé et je parlé trop vite sans trop calculé le sens...
2007-04-02 16:38:26
Izual
"musclé"....
2007-04-02 19:14:56
powermax
Ouaaaah hé trop classe la présentation !
2007-04-02 20:22:10
Souma-kun
OMFG Powermax mais comment peut-on etre aussi hypocrite?Sérieusement!
2007-04-03 08:45:00
Geek Admiratif
Ouaaah il claque le nouveau design. La nouvelle présentation des persos, j'adore...

Sinon, c'est clair, il est hanté. J'ai vu un Pikachu se balader derrirèe Tom.
Tom qui a d'ailleurs disparu pour laisser place aux MIB...
2007-04-03 12:38:09
Izual
Arrêtez de cracher sur ce design, il est bien mieux que l'autre...
2007-04-03 23:30:30
nerevar
moi j'ai pas vu de fantomes tellement mon ordi rame...w****** c'est de la meeeerde!
2007-04-04 00:00:51
Mihawk
ben moi je vais faire mon chieur mais je trouve que c'etait mieux ââââvant