This website is in english, but due to a lot of french readers, some readers comments are in french. The official language of this site and of the comments is english, still.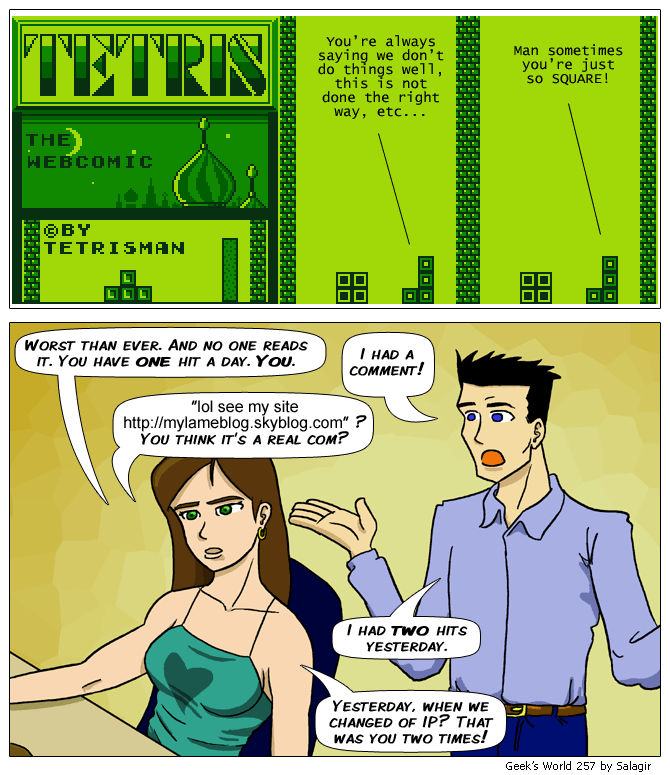 In order to be more occuratly indexed, the texts of the strip are written in this hidden div.
You're always saying we don't do things well, this is not done the right way, etc...
Man sometimes you're just so SQUARE!
Worst than ever. And no one reads it. You have one hit a day. You.
I had a comment!
"lol see my site http://mylameblog.skyblog.com" ? You think it's a real com?
I had two hits yesterday.
Yesterday, when we changed of IP? That was you two times!




T'es tout le temps à dire qu'on fait mal les trucs, qu'il faut pas faire comme ça, etc...
Mec, tu pourrais pas être un peu moins CARRE ?
De pire en pire. Et aucun lecteur. Tu n'as qu'une visite par jour. Toi.
J'ai eu un com !
"lol see my site http://mylameblog.skyblog.com" ? Tu penses que c'est un vrai commentaire ?
J'ai eu 2 visites hier !
Hier, quand on a changé d'IP ? C'était toi deux fois !

Readers comments:
2006-07-03 00:14:30
Supernaz
2006-07-03 00:15:41
Laxigue
Moi je veux l histoire du hulk ouin


Mais sinon c drole :D
2006-07-03 01:18:06
Your nique
mais si yen a des visiteur (y parait ><)
2006-07-03 01:36:27
Tr0ll
Pour les anglophones, t'aurait du parler de myspace. Même si sur myspace le niveau est beaucoup plus élevé que skyblog.
2006-07-03 02:52:01
Nakwa
No wai! I'm the second hit!!!
2006-07-03 10:32:54
Gingerser
Ah cool Wikii. J'ai rajouté le lien du fofo dans les liens externes ;]
2006-07-03 14:56:50
outer.gt
MDR je suis resté près de 2 bonnes heures sur mon ordinateur pour lire cette BD ^^
2006-07-03 19:15:06
NoFutur
Lol See My Skyblam...

Tetris 4 life (^_^)
2006-07-03 20:33:24
Xen
Je n'aurais qu'une chose à dire : YEAH! (et non pas : piquantes ces ptites merguez!!^^)
2006-07-03 21:38:46
Qwerty
2006-07-03 21:39:52
Meow
Salagir, honte à toi... parce que des strips pareils, même si c'est un webcomic dans le webcomic, il faut bien que quelqu'un les invente.

Si je peux me permettre : problème de perspective (à rajouter des détails, ça flambe le dessin)... ou alors ils ont une table inclinée ^^
2006-07-04 10:39:09
Seyars
Je ne pensais pas qu'on pouvait faire une blague pareil dans un tétris ^^
2006-07-04 16:04:35
Gingerser
Tiens mais euh et donc celui qui a mis un commentaire n'a pas d'IP ? A moins que ce soit Bill Gates incognito sur un ordinateur de la NSA. Oui çe doit être ça :P
2006-07-04 20:55:12
Tr0ll
2009-05-18 00:39:00
BrolyLeGlanduLegendaire
moi jaime ien tetris bd