This website is in english, but due to a lot of french readers, some readers comments are in french. The official language of this site and of the comments is english, still.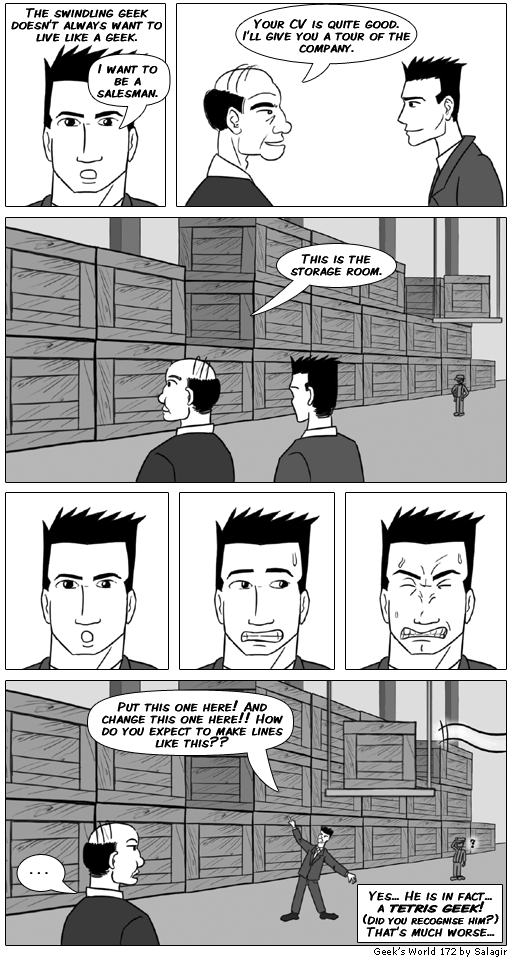 In order to be more occuratly indexed, the texts of the strip are written in this hidden div.
The swindling geek doesn't always want to live like a geek.
I want to be a salesman.
Your CV is quite good. I'll give you a tour of the company.
This is the storage room.
Put this one here! And change this one here!! How do you expect to make lines like this??
. . .
Yes... He is in fact... a tetris geek! (Did you recognise him?) That's much worse...




Le geek fourbe ne veut pas toujours vivre en vrai geek.
Je veux être commercial.
Votre CV est plutôt bon. Je vais vous faire un petit tour de l'entreprise.
Voici le hangar de stockage.
Placez celui-là ici ! Et l'autre là !! Comment espérez vous faire une ligne ainsi ??
. . .
Oui.. c'est en fait... le tetris geek ! (Vous l'aviez reconnu ?) C'est bien pire...

Readers comments:
2005-10-07 00:43:20
hamster
Un geek en costard mais ou va le monde.
2005-10-07 00:55:37
Mazzu
2005-10-07 02:53:40
Meow
Je ne voterai pas, il me faudra plus qu'une glace. Un rendez-vous avec Lina par ex :p
2005-10-07 07:31:18
Falcon
le tetris geek :) ray dans ce genre d'entreprise au moins y'aurai pas une caisse qui serai mal ranger, sauf un endroit ou il y'aurai un trou verticale de 4 il va attendre la ligne longtemps :D
2005-10-07 09:40:51
G33k tr0||
Je veux pas dire, mais j'ai jamais vu Salagir en costard....
2005-10-07 10:27:30
Hamster
Même a un cosplay? Déguisé en le "Commercial Masqué".
2005-10-07 19:37:38
Falcon
le boss ressemble a pierre lescure non?
2005-10-08 12:16:58
Zeil.Vador
C'est sur qu'il faut attendre la barre pour faire un max de points :p
Bein trouver comme idee n'empeche^^
2005-10-09 20:05:51
Falcon
shtooo vivement le strip de demain :)