This website is in english, but due to a lot of french readers, some readers comments are in french. The official language of this site and of the comments is english, still.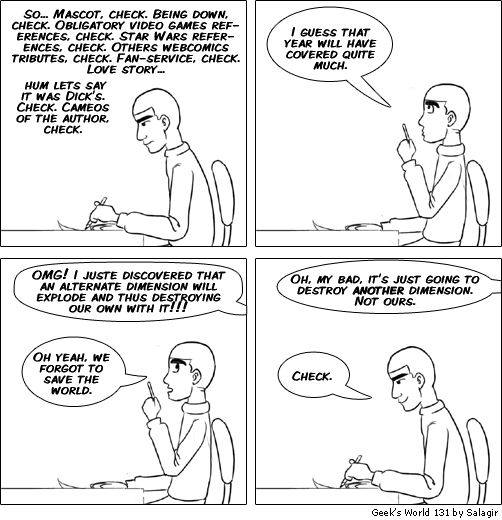 In order to be more occuratly indexed, the texts of the strip are written in this hidden div.
So... Mascot, check. Being down, check. Obligatory video games references, check. Star Wars references, check. Others webcomics tributes, check. Fan-service, check. Love story...
hum lets say it was Dick's. Check. Cameos of the author, check.
I guess that year will have covered quite much.
OMG! I juste discovered that an alternate dimension will explode and thus destroying our own with it!!!
Oh yeah, we forgot to save the world.
Oh, my bad, it's just going to destroy another dimension. Not ours.
Check.




Alors... La mascotte, c'est bon. Le site mort, c'est fait. Références obligatoires à des jeux vidéos, bon. Références à Star Wars, bon. Hommage à d'autres webcomics, bon. Fan-service, bon. Histoire d'amour...
hum on va dire que c'est celle de Dick. Bon. L'auteur dans le strip, bon.
Il semble qu'on a couvert pas mal cette année.
OMG ! Je viens de découvrir qu'une dimension alternative va exploser et détruire la notre avec !!!
Ah ouais, on a oublié de sauver le monde.
Ah, nan. Ca va juste détruire une autre dimension. Pas la notre.
Bon.

Readers comments:
2005-06-15 05:10:13
Chris
It's true, they haven't saved the world.
2005-06-15 05:10:28
Chris
Yet.
2005-06-15 10:02:36
Amon
excellent :)
2005-06-16 06:59:07
Zouf
J'aimais bien le début où ils fondaient l'entreprise. La ça en parle plus trop c'est dommage, faudrait revenir dans l'idée principale^^
2005-06-16 13:48:35
Git elle pie
Et ben, j'avais quelques 30 strips de retard.. que de travail depuis lors, et depuis (presque) un an !
Vraiment sympa et drôle, bravo Sala.
Le plus chiant, avec GsW, c'est de pouvoir le lire depuis le boulot sans se faire repérer.. open-space sux !

Au fait, un poncif des strips qui n'a pas encore été abordé ici, il me semble: un gag en rapport avec l'actualité internationale.
Vivement la prochaine guerre :p
Salagir's answer:
J'ai fais le pape
2005-06-16 14:12:21
J'y aile Pi
Que vas tu faire de GsW alors ? °_°