This website is in english, but due to a lot of french readers, some readers comments are in french. The official language of this site and of the comments is english, still.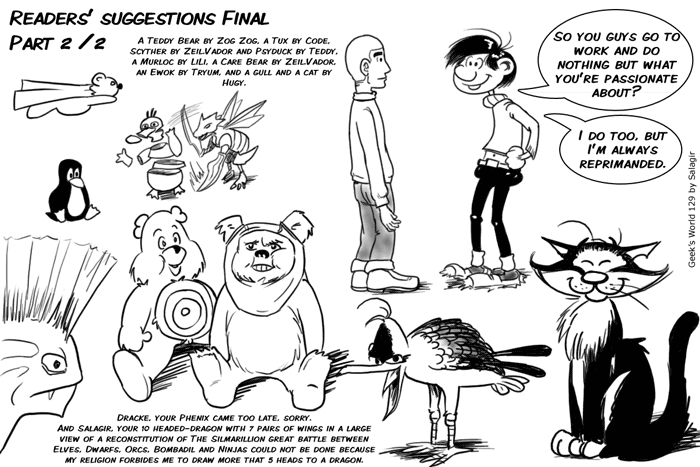 In order to be more occuratly indexed, the texts of the strip are written in this hidden div.
Readers' suggestions Final Part 2 /2
Dracke, your Phenix came too late, sorry. And Salagir, your 10 headed-dragon with 7 pairs of wings in a large view of a reconstitution of The Silmarillion great battle between Elves, Dwarfs, Orcs, Bombadil and Ninjas could not be done because my religion forbides me to draw more that 5 heads to a dragon.
A Teddy Bear by Zog Zog, a Tux by Code, Scyther by Zeil.Vador and Psyduck by Teddy, a Murloc by LiLi, a Care Bear by Zeil.Vador, an Ewok by Tryum, and a gull and a cat by Hugy.
So you guys go to work and do nothing but what you're passionate about?
I do too, but I'm always reprimanded.



Readers' suggestions Final Part 2 /2
Dracke, ton Phénix est arrivé trop tard, désolé. Et Salagir, ton dragon à 10 têtes avec 7 paires d'ailes au milieu d'une grande vue d'une reconstitution de la grande bataille du Silmarillion entre les Elfes, les Nains, les Orcs, Bombadil et des Ninjas n'a pas pu être faite ca ma religion m'interdit dedessiner plus de 5 têtes à un dragon.
Un Teddy Bear par Zog Zog, Tux par Code, Insecateur par Zeil.Vador et Psykokwak par Teddy, un Murloc par LiLi, un Bisounours par Zeil.Vador, un Ewok par Tryum, et une mouette et un chat par Hugy.
Alors comme ça vous faites que ce qui vous passionne au boulot ?
Moi aussi mais on me réprimande.

Readers comments:
2005-06-10 01:30:24
Père Vert
M'enfin !
;-)
2005-06-10 01:32:57
tictac
I love that cat ! And the story about the 10-headed dragon is very funny ! :)
2005-06-10 02:24:38
hamster
Sala...vooooooooooooooooooooooo (like in bravo).
2005-06-10 05:15:03
nick
do a penguin!
Salagir's answer:
Too late. Anyway, Tux is (supposed to be) a penguin.
2005-06-10 07:14:56
Jaracoen
And why not a puffin?
Salagir's answer:
You didn't say it in the comments and I forgot. Sorry too.
2005-06-10 11:54:54
phi
can we stop the readers suggestions and get back to the funny comic?
just a thought...
2005-06-10 13:09:08
Haures Dracochywa
T'a quoi contre psykokwak :'( le povre decoupé en tranche par insecateur (remarque que je connait les noms des pokemon :p
2005-06-10 13:28:47
Dzz
Ouais d'abord ! Psykokwak est le meilleur (boulet) Pokemon ! Et vu son potentiel comique (de boulet), il ne peut pas perdre contre un autre Pokemon !
2005-06-10 20:20:52
Zouf
Une balaine avec 2 bosses sur le dos et qu'une dent au milieu de la bouche. A oui, elle doit avoir une corne sur le front et 3 queues
2005-06-11 03:20:25
Heaven\\\'s Gate
I say the linux penguin
2005-06-12 03:11:31
thelvin
As far as I know, only two major religions ever forbad to draw 6 or more heads to a dragon. And, as the Holy One say (and as the Tri-Dimensional Vectorized One say for that matter, too), "I encountered a dwarf, then several other dwarves."
2005-06-12 15:34:51
lennon john
while my guitar gently weeps
2005-06-13 11:58:21
Falcon
I love gaston's pet anyway :)
2005-06-20 12:33:33
Zeil.Vador
<3 The seven-headed dragon :D
2008-02-26 12:57:31
Gaston Lagaffe
Je suis heureux que vous parlez de moi!
2008-07-16 01:21:10
AGtheKiLLER
(l) Franquin
2008-12-16 22:14:28
Kogébitenks
gaston !