This website is in english, but due to a lot of french readers, some readers comments are in french. The official language of this site and of the comments is english, still.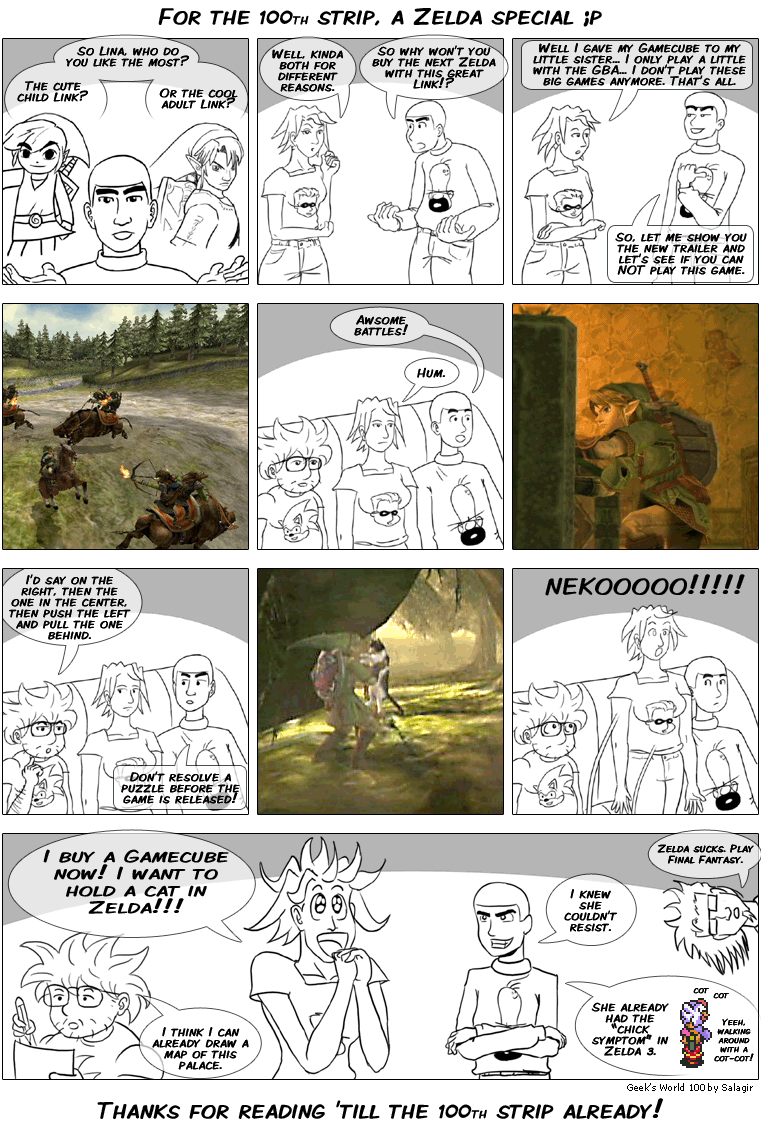 In order to be more occuratly indexed, the texts of the strip are written in this hidden div.
For the 100th strip, a Zelda special ;p
So Lina, who do you like the most?
The cute child Link?
Or the cool adult Link?
Well, kinda both for different reasons.
So why won't you buy the next Zelda with this great Link!?
Well I gave my Gamecube to my little sister... I only play a little with the GBA... I don't play these big games anymore. That's all.
So, let me show you the new trailer and let's see if you can NOT play this game.
Awsome battles!
Hum.
I'd say on the right, then the one in the center, then push the left and pull the one behind.
Don't resolve a puzzle before the game is released!
NEKOOOOO!!!!!
I buy a Gamecube now! I want to hold a cat in Zelda!!!
I knew she couldn't resist.
She already had the "chick symptom" in Zelda 3.
Yeeh, walking around with a cot-cot!
cot
cot
Zelda sucks. Play Final Fantasy.
I think I can already draw a map of this palace.
Thanks for reading 'till the 100th strip already!




Pour le 100ème strip, un spécial Zelda ;p
Alors Lina, tu préfères lequel ?
Le mignon Link enfant ?
Ou le cool Link adulte ?
Ben, un peu des deux pour des raisons différentes.
Alors pourquoi tu n'achèteras pas le prochain Zelda avec ce super Link ?
Ben j'ai donné ma GameCube à ma petite soeur, je joue juste un peu sur GBA... Je joue plus à ces grand jeux, c'est tout.
Alors, laisse moi te montrer la nouvelle démo et on va voir si tu peux ne PAS jouer à ce jeu.
Des supers batailles !
Hum.
Je dirais à droite, puis celui au centre, ensuite pousser le gauche et tirer celui derrière.
Ne résous pas les énigmes avant même que le jeu sorte !
NEKOOOOO !!!!!
Je m'achète une Gamecube demain ! Je veux tenir un chat dans Zelda !!
Je savais qu'elle ne pourrait résister.
Elle avait déjà le "symptôme poulet" dans Zelda 3.
Ouaiiis, se balader avec une cot-cot !
cot
cot
Zelda c'est nul, jouez à Final Fantasy.
Je crois que je peux déjà faire une carte de ce palais.
Merci d'avoir lu jusqu'au 100ème strip !

Readers comments:
2005-03-23 00:09:51
dracke
Ah le prochain Zelda sur Gamecube... Chevaucher des sangliers, résoudre des enigmes et surtout porter des chats! ;-)
2005-03-23 01:23:23
DaSayan
Excellent, ca valait le coup d'attendre :)
2005-03-23 01:48:06
tictac
Ah ouais, c'est clair qu'un long strip valait le coup d'attendre :) Il y a cependant une coquille sur la dernière case (en Anglais) : Lina parle de gamecuKe au lieu de gamecuBe ;)
Pour le rang bloqué sur 23, c'est parce que vous etes plusieurs en vacances :p
2005-03-23 01:48:23
tictac
Pourra-t-on faire des lancers de chats ? :D
2005-03-23 04:24:24
thelvin
Uniquement si on ne craint pas ma colère. Ses effets pourront être constatés dès que j'aurai mis la main sur Dick.
2005-03-23 17:58:15
Roberta
Les chats, c'est vraiment des branleurs. Au lieu d'acheter du kwiskas, les chats garderaient leur argent pour jouer au billard et fumer des pétards. Et grimper au plafond.

Ceci est un message du CCC, le Comité Contre les Chats.
2005-03-23 18:34:19
Roberta
2005-03-23 19:05:57
Snayle
le chat roti c'est très bon aussi
2005-03-24 17:59:14
Merou
pourquoi crie t-elle NEKO !!!!!! ?
2005-03-24 22:19:39
DaSayan
Neko = chat en japonais
2005-03-25 10:13:21
Jaracoen
In fact neko is 猫 (<-unicode char)
2005-03-28 13:35:19
Marie
Le chat de Link il est presque aussi ENORME que le mien ;-)
2005-03-29 00:57:55
Trepifo
dis donc j'ai l'impression d'avoir été carricaturée la dedans........
2005-03-29 17:28:51
Bri.
Marie: En fait c'est Link qui est un nabot !
2005-03-30 04:48:19
tictac
Dommage ça aurait fait un bon roti et un bon paté ;)
2005-05-03 23:55:20
Arier
Nuke France!
2005-05-07 14:56:09
Marie_
Arier: t'as oublié des lettres à ton nick --> arriéré
C'est mieux comme ça non?!
2006-06-25 07:55:52
Jo
VIVE FINAL FANTASYYY xD

et bonne continuation à ce trip vraiment géniale ;)
2007-06-24 01:31:38
SSBMboss
Incultes sont ceux qui ne savent pas ce que veulent dire YAOI et NEKO. -_- (se prend plein de baffes dans la gueule)
2008-11-20 18:53:30
tueur poulepoule
moi dans zelda les poules je les portent pas je les ataquent
2009-03-17 01:02:51
Caduceus
"Zelda c'est nul, jouez à Final Fantasy"
Je crois que c'est ça le vrai gag de la page! :D
2010-04-18 03:45:34
son goku
le de xelda cestthe legend of zelda twilight princess ces facile a cen rende compe
2010-06-11 00:23:56
Firtorios
>Caduceus:"Zelda c'est nul, jouez à Final Fantasy" Je crois que c'est ça le vrai gag de la page! :D
WTF! Hérétique!
2010-06-11 01:19:03
Kyriaki
>Firtorios: WTF! Hérétique!
Du tout, la preuve: c'est Dick qui le dit et d'après
ce
strip il voue un culte à Satan.
Oui, ce Caduceus c'est moi, enfin plus maintenant mais c'était moi.