This website is in english, but due to a lot of french readers, some readers comments are in french. The official language of this site and of the comments is english, still.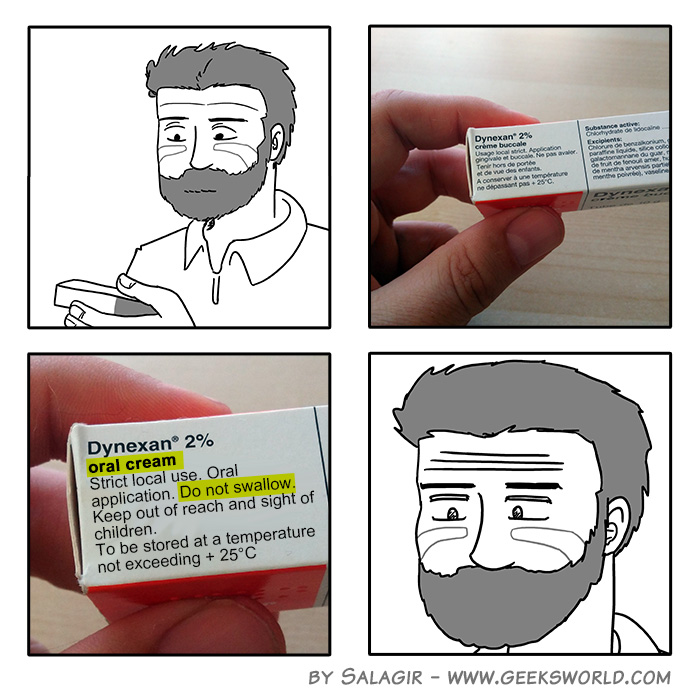 In order to be more occuratly indexed, the texts of the strip are written in this hidden div.
Readers comments:
2018-04-28 16:03:45
pigeta
mort au chatons ,exelllent blog street
2018-04-29 21:35:14
Yasik
C'est magique comme notice mazette !
2018-05-03 10:41:14
Rooms
Juste pour info, faut pas avaler le chlorhydrate de lidocaine parce qu'il y a un p'tit risque de paralysie des cordes vocales, et donc de mort atroce par suffocation... Après faut comprendre, ne pas avaler en grandes cuillérées, hein !
Salagir's answer:
Super, j'ai un moyen de faire taire quelqu'un chez moi :)
2018-05-09 21:17:42
Celelibi
Oh ben, j'ai déjà vu pire.
Je ne me rappelle plus de la formulation, mais l'idée c'était : "Peut avoir des conséquences léthales avec risques de complication".
Wait wut?